Apple will open its London office space at Battersea Power Station early next year, Apple CEO Tim Cook announced today during a visit to the all-new campus.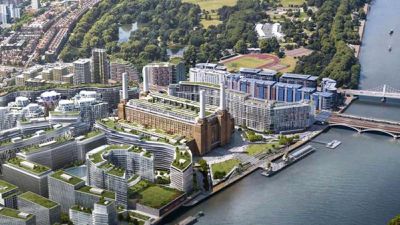 Render of the redeveloped campus in Battersea Apple first announced plans for the new campus in 2016. It says 1,400 Apple employees will be relocated from eight locations in London to occupy the new UK office space. After visiting retail locations in London over the weekend, Cook has today visited Apple's new Battersea location, as well as Apple Brompton Road and Apple Regent Street.
We can't wait to open our new offices in the iconic Battersea Power Station to so many of our team members in London early next year. It's a tribute to this incredible city and a reflection of our commitment to Apple's future in the UK. pic.twitter.com/67M3qpaSTB — Tim Cook (@tim_cook) September 26, 2022
Battersea Power Station is a decommissioned coal-fired power station in South West London, considered an iconic landmark for its Art Deco design and status as one of the world's largest brick buildings. In 2016, Apple leased 500,000 square feet at the site, making it one of Apple's largest offices outside of the United States. Cook told London's Evening Standard:
Apple has been part of the London community for over 40 years and we are excited to soon be bringing some of our teams together at the historic Battersea Power Station.
Once a source of energy for much of London, the transformation this building has undergone honors London's past and celebrates its future. We are so happy to be a part of it.
Battersea Power Station and its environs have undergone a "scrupulous" restoration process in recent years. Apple is expected to occupy about 40 percent of the power plant, including the top six floors in the former boiler room around a central atrium, with enough space for about 3,000 employees. There will also be three floors of shops, bars and restaurants, a 24,000-square-foot dining hall, 253 apartments around a 'garden square in the sky', a 2,000-seat auditorium and cinema, and more.
related stories
Apple employees reportedly filed 3x a week against plan to return to the office
Apple employees have reportedly filed a petition against the company's plan to require employees to return to the office in person three days a week starting next month. Earlier this month, Apple informed company employees that they will be required to return to the office three days a week starting early next month. The current plan requires employees to work on Tuesdays, Thursdays and…
Apple requires employees to return to the office 3x a week from September 5
Apple today informed employees that they must return to the office for three days starting the week of Monday, September 5, Bloomberg reports. Apple requires employees to work in person on Tuesdays, Thursdays and a third day that will vary by team as part of a hybrid return to work plan. Apple originally planned to require employees to return to the office three days a week in May.
Tim Cook Shoots Down Idea Of iOS Adoption Of RCS Posts: 'Buy Your Mom An iPhone'Thursday, Sept 8, 2022 3:53am PDT by Sami Fathi
Apple CEO Tim Cook has shot down the idea that iOS would use RCS messaging, a format that would make it significantly easier for iPhone and Android users to send high-quality messages, videos, and photos to each other in the Messages app. on iOS. During a panel yesterday at Kara Swisher's latest Code Conference, Cook was asked why iOS hasn't yet adopted support for the RCS standard and how…
Live Blog Apple Event: iPhone 14, Apple Watch, AirPods Pro and more expected
Apple's "Far Out" event kicks off today at 10:00 AM Pacific Time, where we expect to see the iPhone 14 lineup, several new Apple Watch models, updated AirPods Pro, and perhaps some other announcements. Apple offers a live video stream on its website, on YouTube and in the company's TV app on various platforms. We will also update this article with live blog coverage…
Tim Cook, Jony Ive and Laurene Powell Jobs to speak at Code 2022 Conference next month
Apple CEO Tim Cook, former Apple design chief Jony Ive, and Emerson Collective founder Laurene Powell Jobs will be among the speakers at Vox Media's Code 2022 conference at the Beverly Hilton hotel in Los Angeles. The in-person event will take place on September 6-8, but it's unclear when exactly Cook, Ive and Powell Jobs will speak. The discussions will be led by veteran…
Tim Cook Talks Apple Work Culture, Product Innovation, Self-Repair Service for iPhone and Mac, Steve Jobs, and More in New InterviewThursday, Aug 25, 2022 8:14 AM PDT by Sami Fathi
In a new in-depth interview with Popular Mechanics, Apple CEO Tim Cook discusses product innovation and how it drives Apple to make better products, enabling customers to fix their iPhones and Macs with the self-service repair program, Steve Jobs and his legacy, and more. In the interview published in a special issue of Popular Mechanics, Cook describes Apple's philosophy of…
UK Apple Stores will close next Monday for Queen Elizabeth II State Funeral Monday, Sept 12, 2022 2:38am PDT by Sami Fathi
All Apple Stores in the UK will be closed on Monday, September 19, in respect of the planned state funeral of Her Majesty Queen Elizabeth II, Apple told UK staff today. Monday 19 September has been designated a public holiday by King Charles III, given the planned state funeral for Her Majesty. Official government guidelines state that it is up to individual companies…
Apple's first store with a dedicated takeaway area in the UK opens this week
Apple today shared a preview of its new Brompton Road store in London, which opens to the public next Thursday, July 28 at 4 p.m. local time. Apple Brompton Road is the UK's first Apple Store to have a dedicated Apple Pickup area where customers can pick up their products ordered from Apple's online store. Apple has rolled out a dedicated takeout area in a handful of stores since late 2021,…
Popular stories
YouTuber tests Apple Watch Ultra durability with a hammer: Table breaks for the Watch Sunday, September 25, 2022 2:27 PM PDT by Sami Fathi
A YouTuber has put Apple's claims about the durability of the Apple Watch Ultra to the test by comparing it to a drop test, a jar of nails and repeated blows with a hammer to test the sapphire crystal that protects the screen. TechRax, a channel popular for product durability testing, first tested the Apple Watch Ultra by dropping it from about four feet high. The Apple Watch…
Ten things AirPods Pro 2 tells us about AirPods Max 2
After the release of the second-generation AirPods Pro, the AirPods Max became the oldest current-generation AirPods product left in Apple's lineup. With the introduction of several new features such as Adaptive Transparency and the H2 chip, the second-generation AirPods Pro may offer some of the best indications yet of what to expect from the second-generation AirPods Max. Almost two years later, rumors…
Six key products Apple can expect in 2023 Sunday, September 25, 2022 10:57 am PDT by Sami Fathi
As we near the end of a busy product release season for Apple with only new iPads and Macs to be announced in the coming month, we also set our sights on 2023. Apple is rumored to have several key products in the pipeline for next year, including new Macs, a new HomePod, a VR/AR headset, and more. Aside from new iPhones and Apple Watches, which are expected to…
Gurman: New iPads and Macs May Be Announced Via Press Releases, No October EventSunday, September 25, 2022 6:50 AM PDT by Sami Fathi
According to Bloomberg's Mark Gurman, Apple may decide to release its remaining 2022 products, including updated iPad Pro, Mac mini and 14-inch and 16-inch MacBook Pro models, through press releases on its website rather than through a digital event. In his latest Power On newsletter, Gurman said that Apple is currently "probably going to release its remaining 2022 products via press releases, …
iPhone 15 'Ultra' could replace Pro Max model next year Sunday, September 25, 2022 7:02 am PDT by Sami Fathi
Apple is gearing up to potentially replace its "Pro Max" iPhone with an all-new "Ultra" iPhone 15 model next year, reliable Bloomberg journalist Mark Gurman said today. In his latest Power On newsletter, Gurman wrote that Apple is planning an updated design for the iPhone 15 in addition to USB-C and a possible name change. Apple could replace its "Pro Max" branding, which it started using…
AirPods Pro 2 Engravings Appear in iOS While Pairing and ConnectingFriday, Sept 23, 2022 9:40am PDT by Sami Fathi
Customers who personalize their second-generation AirPods Pro charging case with an engraving will now see that engraving directly on iOS when they pair and connect their AirPods Pro. Apple allows customers to personalize their AirPods Pro charging case with a special engraving that can include certain emojis and memojis. Unlike before, starting with the second-generation AirPods…
Some iOS 16 users are still dealing with unaddressed bugs and battery drain, two weeks after launch Monday, Sept 26, 2022 07:34 AM PDT by Sami Fathi
Today marks exactly two weeks since Apple released iOS 16 to the public. In addition to the personalized lock screen, major changes in Messages, and new features in Maps, the update has also seen a host of bugs, performance issues, battery drain, and more. After major iOS updates, it is normal for some users to report having issues with the new update, but such reports usually disappear in…
New 14-inch and 16-inch MacBook Pros Reportedly Launching Later This Year
According to supply chain publication DigiTimes, Apple plans to release new MacBook Pro models in the fourth quarter of 2022. The report doesn't list specific models, but most likely refers to the next-generation 14-inch and 16-inch MacBook Pros, as the 13-inch model was already updated earlier this year. There is uncertainty about the timing of the new 14-inch and…