Chelsea's Champions League campaign has its firing point and so has Graham Potter's managerial tenure. It feels strange to think that this was only his third game in charge of the club after his appointment on September 8, the first being the 1-1 draw here against Red Bull Salzburg.
That had been a strange mix of emotions after the loss at Dinamo Zagreb and the resignation of Thomas Tuchel. But with Chelsea desperately in need of a league win, it all came together, the blue shirts pouring in from all sides; Milan chased west London, happy to escape a serious beating.
It was still chastisement. There is a certain kind of event glamor when it comes to Milan – the cool shirts; the sight of Paolo Maldini, the technical director, meandering over the sidelines before kick-off. Clarence Seedorf, the former Milan midfielder, was here as a media pundit – alongside Chelsea icon, Gianfranco Zola, for the press.
But apart from the electricity generated when Rafael Leão got the ball and started running, Milan offered nothing and it was certainly shocking to see the champions of Italy defend so generously. The die was cast when Wesley Fofana opened the score midway through the first half after a poorly defended corner and then Chelsea threatened to revolt.
Potter had to work his way into the role on the training pitch and he could enjoy watching his players chart Cobham's moves to the big stage. Pierre-Emerick Aubameyang added the second and it was an evening that impressed almost everyone. Thiago Silva was perfect in defense while Mateo Kovacic and Ruben Loftus-Cheek controlled the midfield. But as so often it was Reece James who was the dominant figure.
The right-back drove the team, threatening Milan with his waves and deliveries. It was his cross that made Aubameyang win and it was fitting that he put the seal on one of Chelsea's best wins for a while with the third goal, which hit the post after a pass from Raheem Sterling. It was James who followed the TV cameras full time, him singing a salute to the home crowd.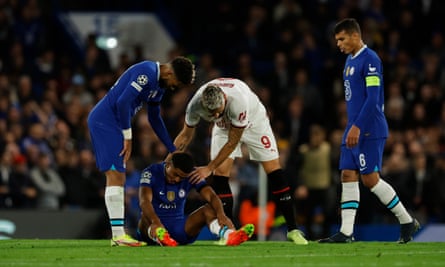 Wesley Fofana goes down with the injury that would force his substitution in the first half. Photo: Tom Jenkins/The Guardian
Chelsea fumbled at the start against a Milan defense that missed the number 1 goalkeeper, Mike Maignan, and three of the regular four in the back – Davide Calabria, Simon Kjær and Theo Hernández.
Mason Mount extended Ciprian Tatarusanu, but it was after a flurry of set pieces midway through the first half that Chelsea took control – four of them to be exact, each with a free header and worrying lines for Milan manager Stefano Pioli. How did this happen?
From the fourth, a corner from Ben Chilwell, Silva – as he had done twice before – cleared his header, which was pushed away by Tatarusanu and from there it was a scramble. Aubameyang moved aside, Loftus-Cheek too and when the ball broke, it kindly did for Fofana, who rolled it home.
Start your evenings with The Guardian's take on the world of football
Privacy Statement: Newsletters may contain information about charities, online advertising, and content funded by third parties. See our privacy policy for more information. We use Google reCaptcha to protect our website and Google's privacy policy and terms of service apply.
Chelsea were well balanced in Potter's 3-4-2-1 system; Sterling and Mount find spaces like the No 10s, James and Chilwell that provide breadth and thrust. Maybe they were out of sight during the intermission.
Mount saw a shot blocked after James combined with Sterling to withdraw, and Mount also had the ball in the net after a nice finish, but had strayed offside. Sterling also came close on a quick break.
Milan's threat came solely through Leão, their fast-rising star – an unusual mix of explosiveness and power. His first involvement was shooting off a stack of blue shirts and he made it clear that he intended to do that again and again. Chelsea needed Silva to stretch out for an excellent slide challenge on him in the 19th minute after Fofana was caught on the ball.
What a run it was that Leão produced in first-half stoppage time, taking him past four Chelsea players, with alarm bells ringing loudly. Charles De Ketelaere jabbed at goal and when Kepa Arrizabalaga – who again kept his place for the fit Édouard Mendy – tapped the ball out, Rade Krunic had to score. His shot went high from a distance. It was a huge disappointment for Chelsea.
There were needles, some bad challenges, with those of Krunic and Fodé Ballo-Touré fully deserving of their yellow cards in the first half. But not much seemed to have happened in the battle between Fofana and Leão with the former being forced out in the 38th minute. The frustration for the goalscorer was great.
Chelsea deserved a second goal for easier breathing and it came in the 56th minute when James came on and Aubameyang gave Fikayo Tomori the slip all too easily. Tomori had to make a desperate lunge; it was a horror moment for the Chelsea youth product. That was the result. But after Sterling played high volleyball, James blossomed.