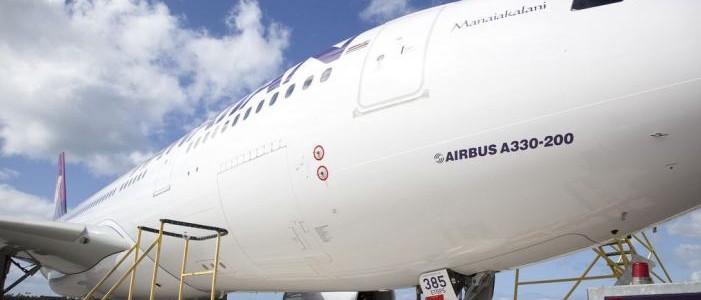 Amazon is partnering with bellwether Hawaiian Airlines to expand its air freight service and take up to 15% ownership of the airline. The retailer will use Hawaiian to operate and maintain a new fleet of leased A330 widebody cargo aircraft to replace older aircraft. This is an entirely new and innovative direction for Hawaii's largest private employer.
Read on for our local Hawaiian take on this.
Updated at 1030am 21-10:
Speaking to Hawaiian Air investors later on Friday, CEO Peter Ingram highlighted some aspects of this agreement:
Hawaiian said this agreement "enables synergies with our a330 passenger business" and will provide a "meaningful revenue stream that is distinct and separate" from Hawaiian's meat-and-potatoes Hawaii passenger business. Ingram added that "Hawaiian was a natural partner" for this 8-year Amazon contract. He said Amazon has the option to place additional aircraft with Hawaiian and extend the agreement beyond the initial 8-year period. Hawaiian said they had reached an agreement with their existing pilot employment contract needed to add this new industry. Ingram said he expects pilots to spend periods exclusively on freight or passenger transport and not go back and forth more often. Hawaiian will be paid by "block hours" based on hours flown and number of departing flights, and income will not be affected in the same way as passenger activity. Also, the cost of jet fuel will be "pass-through" from Hawaiian to Amazon. Regarding pilots, Ingram said this is a "new source of opportunity for employees, including hundreds of new pilots and others." He said it will further increase Hawaiian Air's appeal for pilots. HA estimated that this will create approximately 160 new pilot jobs for the ten new aircraft. In terms of risks associated with this new venture, Ingram said timely performance is paramount to Amazon. This has been a major problem in the Hawaiian passenger industry lately, as we noted earlier this week when Hawaiian had 145 delayed flights in one day. In addition, Hawaiian is new to working with a customer as big as Amazon, rather than air passengers. These are similar to the A330 aircraft that Hawaiian uses for passenger transport.
Hawaiian's passenger service uses its dedicated fleet of 24 Airbus A330-200 aircraft, while these are A330-300 cargo aircraft. These will leverage the airline's extensive knowledge and experience with the A330 and also take the airline in a whole new direction.
Amazon said this morning: "These A330-300s will not only be the first of their kind in our fleet, they will also be the newest, largest aircraft for Amazon Air, enabling us to deliver more customer packages with each flight."
Amazon also said today that it had signed an agreement with Airbus to lease the 10 aircraft that Hawaiian will operate. These are the largest planes Amazon has ever used to transport cargo.
Hawaiian CEO Peter Ingram said: "We are excited to help Amazon customers by providing additional air freight capacity and logistics support. This is a recognition of our experience in providing safe and reliable operations, our incredible frontline team and our shared focus on This relationship provides a catalyst to grow our business and a unique opportunity to diversify our revenue streams while leveraging our established strengths."
Hawaiian becomes Amazon's largest airline partner to date.
Amazon is already similarly using leisure airline Sun Country, which shut down its Hawaii service last year, for Boeing 737 freight service. Amazon also uses Atlas and ATSG to fly cargo for them.
As part of the deal, Amazon will retain the option to acquire up to 15% of its shares over the next nine years.
Hawaiian plans to start flying the leased cargo planes next year.
Hawaiian will fly 10 or more of the A330-300s for Amazon starting in the fall of 2023. By 2024, all new aircraft will be commissioned by Hawaiian.
To do this, Hawaiian is setting up another pilot base, which will be located somewhere on the mainland, and plans to hire all the associated personnel needed to fulfill the new contract.
Why now? BOH's take on Hawaiian's Amazon partnership. We give Hawaiian a lot of credit for their creativity in this latest venture. It is a challenging financial environment and this diversification can only be seen as beneficial. A further indication of this is that the airline's share price has risen sharply on the news this morning. A stronger airline also benefits Hawaii travelers, so this seems to be good news everywhere at first. The company leverages Hawaiian's extensive experience with its own large A330 fleet over the past decade. Hawaiian will also maintain the new Amazon A330 fleet and use its own well-coordinated internal and external maintenance resources. The airline has the systems and knowledge necessary to employ and train the pilots and other people necessary to fulfill this agreement. Questions remain, given the pilot shortage that all airlines still face. We don't know if or how this affects Hawaiian's agreements with its current pilot and other unions. It will further Amazon's relationship with the state of Hawaii. This will be an exciting development to follow.
We will be calling Hawaiian later this morning and will update this message afterward.
The above photo is of a Hawaiian Airlines A330-200 passenger plane.
Disclosure: We receive a small commission on purchases from some links on Beat of Hawaii. These links cost you nothing and generate revenue that is necessary to provide our website to you. mahalo! Privacy Policy and Disclosures.